Snoopza — the best Facebook Messenger spy
Snoopza is the easiest way to spy on Facebook messages for free. The application allows you to track chats, calls, images and messages on Facebook, WhatsApp, Viber and Snapchat. The Facebook Messenger Spy App is a hidden way to follow someone's activities on social networks. It's not a joke! You can track Facebook messages without any problem. Would you like to have your own Facebook Messenger spy application?
How to spy on Facebook Messenger: 3 steps
To access the tracking function, you must follow three simple steps:
Sign up for your online account on Snoopza (it's free). You need to enter your email and create a password;
After downloading the tracking app, you'll need to install it from online account;
Then you'll be able to monitor Facebook activity in your account.
If the application is installed on an Android device with the right roots, the saving of Facebook messages is performed automatically; you don't need to use any additional settings. It's so easy to use Snoopza.
5 reasons to download the Facebook Messenger Spy app
Facebook is the most popular social network, used for exchanging information by billions of people. Used during one's free time, it doesn't create problems for businesses, but as everyone knows, many employees waste hundreds of hours by chatting instead of working. The website is a great platform for communication, but at the same time is the cause of lost time and attention. There are more reasons to download the Facebook Messenger Spy App:
Children use Facebook to do some things that are not allowed, such as sending prohibited images.
Using Internet, teens learn illicit habits like drug use and early sex.
Employees might spend otherwise-productive hours on this social network; such workers can put a company at a loss.
Somebody whom you love can send illicit messages to another man or woman.
There are many more reasons, but you could have your own, such as a desire to help someone whom you love or who is important to you. Sometimes the question arises: Is it possible to prevent all this? Of course, yes.
Use Snoopza, a modern Facebook Messenger Spy App that can become your helper in any life situation. Through it, you'll be able to closely monitor the activities of various groups (children, teens, workers, loved ones) on this famous social network. A Facebook tracker app like Snoopza can help you handle many personal and business tasks.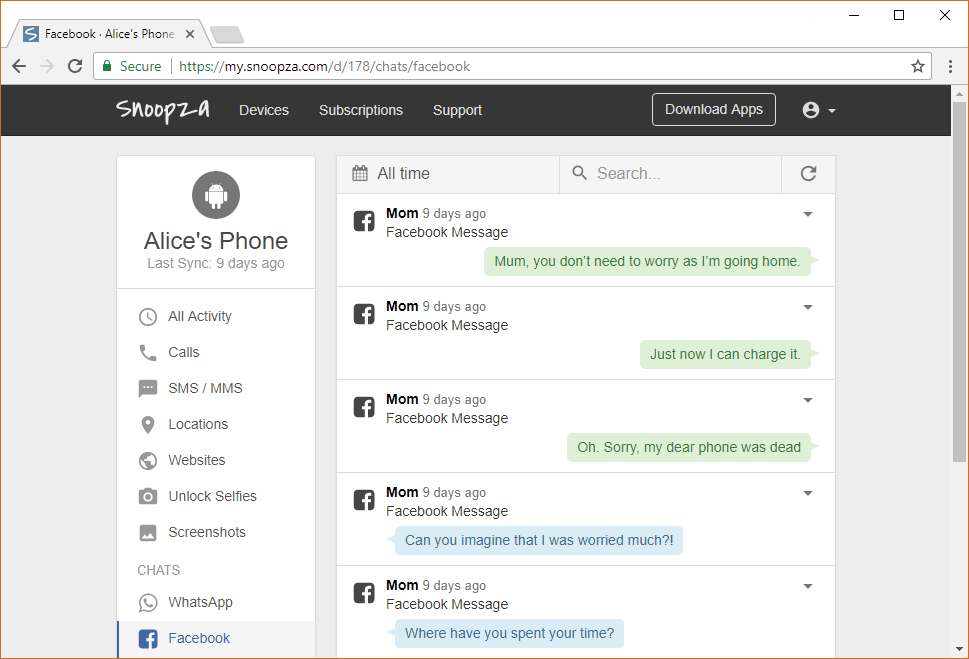 Spy on Facebook: Who needs it?
It's difficult to find people who don't need Facebook Messenger tracking. Snoopza is useful for parents, husbands and wives, and, of course, for owners of businesses.
If your children, loved ones and employees use Facebook to send messages, they'll do if often at home, at work and everywhere. It can affect relationships, work and school.
No doubt, any parent wants his child to be safe and any husband or wife wants to be sure his or her loved one is honest. And businessman needs to know that his workers aren't wasting their time or sharing company secrets. Facebook Messenger tracking can help in any situation.
Facebook spy app Snoopza and its features
Snoopza is the easiest way to truly know people through their online activities and private messages. It lets you control any chat conversation that takes place through the target smartphone on Android. This app registers both outgoing and incoming messages.
Snoopza is a very helpful application. Using it, you'll be able to check:
The names of people with whom your teens, workers and loved ones have been speaking;
Any chat conversations;
The date and time when chats took place;
Different videos, audio files, pictures and photos sent through chat.
All this and other information from social network chat conversations will be uploaded to your Snoopza control panel. It works online 24 hours a day, so you'll be able to track anybody whenever you want. This simple program will give you all the information you need about what is going on around you.
Are you still thinking about how to spy on Facebook Messenger? The answer is right here – create an account on Snoopza, download the application and start tracking social activity. You will get access to the best free spy app, and you definitely need it to ensure your children don't do bad things, your loved one is honest with you, and your workers are truly earning their salaries.