Snoopza — Viber spy application for business and life
Viber is one of the most popular applications for Android, iOS, Windows and other communication platforms. If you don't know how to spy on Viber, the answer is easy – download Snoopza, a Viber spy application for Android. The spy app monitors every Viber text message, audio file and video file, and allows you to track someone's activity. Check on your workers, control your kids, check on your husband or wife, and so on.
What is Viber?
Viber was introduced in 2010. It's an application that allows you to make free calls, over a Wi-Fi network or mobile network, to other users with Viber installed. It also allows you to send text messages, images, video and audio messages, documents and files.
Throughout the years, the application has become a popular one. As of 2020, more than 200 million people use it worldwide. This success has a simple explanation – the software has a lot of benefits. One of them is that users can install this app on different devices. It works on Mac OS, Android, Windows and other systems.
Snoopza: Why is it the best Viber spy app?
Snoopza is a special Viber spy that allows users to track messages and calls (both received and sent). If you really want to view activity in Viber, Facebook and WhatsApp, you can do it using the free spy Snoopza. The clever software saves all SMS and calls. It can take screenshots and photos. Using it, you'll be able to track web history and geo-position.
Snoopza is ready to help you:
Check the number and name of a sender;
Read secret messages;
View call logs;
Monitor date and time stamps;
Look at photos and pictures the user receives or sends.
Cell phone tracker is useful for parents, couples and businessmen. There are tons of ways to use and get benefits from it.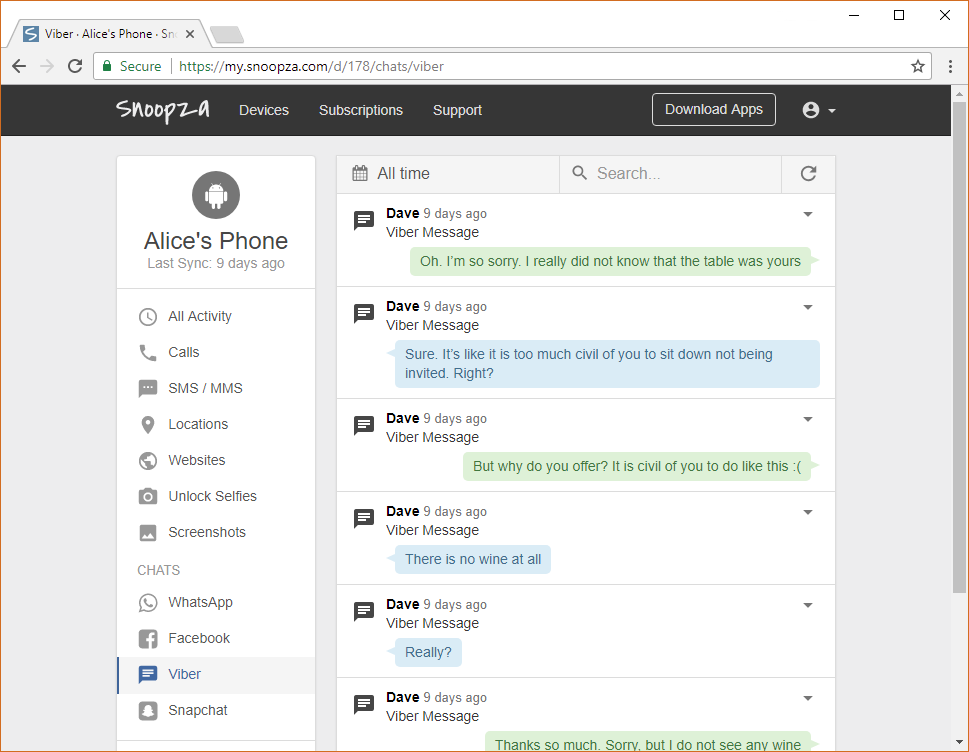 How Viber spy Snoopza can help
Snoopza is the best Viber spy based on application reviews. Users noticed that it can help in these ways:
Increase productivity of employees.
Many people prefer to waste their work time chatting, writing messages and sending photos instead of doing a job good. The spy application can tell you when this situation happens. What you do afterward is up to you.
Protect children from horrible cyber bullying.
This significant problem affects many kids. How can parents know whether their children have suffered from cyberbullying? First, they need to install Viber spy, then monitor their kids' activity and talk with them.
When a person is jealous, it destroys the family. If you want to be sure your husband or wife hasn't cheated on you, choose Snoopza.
The Viber logs can be useful in detecting cyber frauds and tackling many personal and work tasks. Snoopza is an application that helps people save their businesses and families.
How to use the Viber spy App to tackle activities
Would you like to enjoy all the benefits Snoopza offers? If so, take just three simple steps:
Create an account and download the Snoopza application;
Install this software on the target phone;
Open your own web account and activate it.
That's all. Now you can start tracking Viber files and messages online. Spy on Viber whenever you want. You don't need to worry about your kids, loved ones or business anymore. All this is secret; the application works secretly.