Free keylogger for Android Snoopza — best app for parents, spouses, businessmen
Keylogger for Android helps you watch over smartphones secretly. It's the easiest way to check on children, staff members and other people. The app records pictures from cameras and tracks calls. It spies on text messages SMS, MMS, internet activity, WhatsApp, Viber and Facebook. It also tracks geolocations, contacts and calendars. It can capture passwords, phone numbers and other information. Every keystroke a person presses, you'll be able to see in the log file.
What is the keylogger application for Android?
Keystroke logger for Android is special software developed to gather the keystrokes of a checked mobile phone or tablet and add them to special log files. The free keylogger works in the simplest way. Unfortunately, most similar apps are not very useful, or are very expensive. Choose Snoopza for the best solution.
You can download free software that will gather just one-type keystrokes or capture different types. First, decide which type you want. Multifunctional is the best solution because it allows you to collect different data. You definitely don't need to be in a hurry and download the first free Android keylogger you find in Google. Read more information about the software you choose.
Can you be detected? Not if you choose Snoopza. It's impossible to detect you, so you can use it for as long as you need.
Snoopza features – why it's the best free Android keylogger
First, the application is free to download and use. If you want to try, just sign up and install the software. After that, you'll be able to:
Record call data. Snoopza keeps detailed logs and records the details of conversations, such as contact name, duration and so on.
Track location. Constantly check the location of the tracked smartphone.
Monitor text and other messages: MMS, SMS, Viber, WhatsApp, Facebook. You can track not only texts, but also images, voice messages and videos.
Take photos by front camera. You can receive a photo every time the target user unlocks the device.
Check Internet activity. The cell phone tracker saves all information about visited sites.
You can include five devices in one account. You'll be able to monitor up to five devices at the same time, including tablets and phones on Android. Throughout it all, you'll be invisible.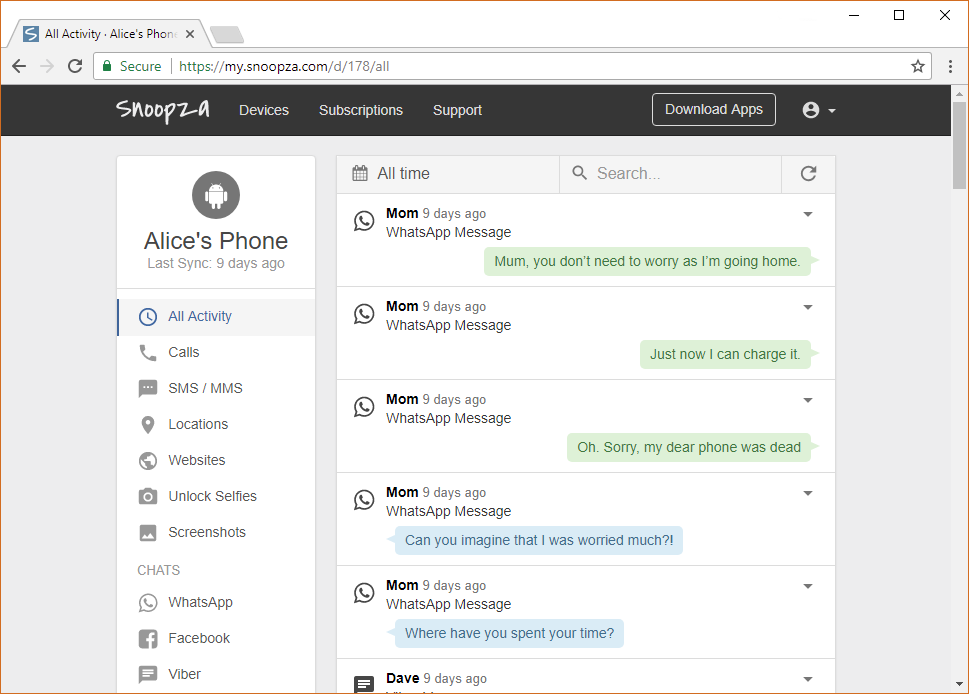 All these features don't drain the battery quickly. This is the main problem with many competitors' solutions. The target user will know that something is going on with his/her device because the battery quickly runs out.
The last, but not the least, reason why Snoopza is the best spy app for Android – it works even if a person decides to change SIM cards. Moreover, you'll get a notification when the user of the target phone decides to do so.
The target audience
Snoopza was developed for special agencies, businessmen, parents and spouses. It's used primarily to protect teens, save relationships and learn about bad employees. The software is a helper for:
Parents. This free Android keylogger can reveal what children try to hide from their mothers and fathers. Not every child wants to share his/her secrets; the child can get calls from strangers and hide something horrible. For example, the child doesn't want to say that his/her friends are involved in cigarettes, alcohol, drugs and early sex. Snoopza is the best way to protect children and teens from bad companies, online threats and cyber bullying.
Businessmen. When workers spend their time playing games and sending messages on the internet, it doesn't help to earn profit. You can prevent this if you learn that your employees are wasting time.
Everybody. The GPS feature is used to protect devices from being lost or stolen.
In summary, Snoopza can help you care for or save someone you love. Use it if you want more data. Use it if you want to protect your children. Use it if you want to build a successful company.
How to use the application – step by step
One of the most popular fears is that an Android keylogger app requires special computer science knowledge. This is a myth. You can use this software easily. There are just three simple steps:
Sign up. For this, you'll need an email and password.
Download and install the app from your account.
Start monitoring data.
Everything is easy. Just follow the instructions.